The Least of These Church (Korean Progressive Church)
The Purpose of Building of Korean Progressive Church
There is no progressive Korean Church in the area of New York and New Jersey even though there are about 550 Korean Immigrant Churches. Theologically, politically and culturally, Korean progressive church needs to be built for progressive Korean (progressive Christian) who seek to engage in social justice and liberation movement.
Meaning of the Name
We, as one of the laborers, the poor, the middle class, youth, students, and the intellectuals, believe that 'the least of these' are the people who are suffering and marginalized, exploited and oppressed in this capitalistic society and imperialistic world, the racial or sexual minorities, and the little people who seek to live for justice and truth. We believe that 'the least of these' can be the subjective people to build the kingdom of God. We seek to participate in building of God's kingdom as a Christian and as a community. Therefore, we call ourselves 'The Least of These Church.' (Matt. 25, 34-40)
Mission Statement
The Least of These Church seeks to build a just and liberated society and world by speaking and acting prophetically through community mobilization, training, education, and public participation. We call on our congregation to express this vision in action and carry out our mission to struggles for justice and liberation throughout society and the world, to transform the unjust structures that perpetuate poverty, oppression and exploitation, and to collaborate with other congregations and organizations for participating in solidarity actions with those who share our mission. This mission is grounded in biblical, theological and historical understanding of God's deed of liberation.
Logo of The Least of These Church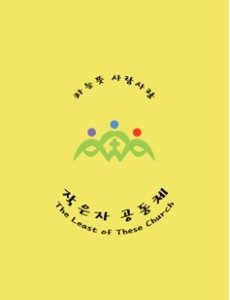 Explanation of Logo:
Three people = Solidarity, Unity: Three people who put arms around each other's
shoulders symbols Solidarity and Unity.
Cross = Love, Justice, Sacrifice: Cross in the heart symbols Love, Justice, and
Sacrifice
Yellow = Peace: Background color which is yellow symbols Peace.
Purple = Self-Reliance, LGBT:
Blue = Democracy, Male:
Red = Reunification, Female:
Three color of heads which are Purple, Blue, and Red symbols Self-Reliance,
Democracy, Reunification (These concepts are South Korean activist's
essential Program) and also symbols LGBT, Male and Female's equality
(These concepts show the anti-Homophobia and anti-Patriarchism)
Green = Life and Ecologism: Green of shoulders symbols life and ecologism
교회위치

Judson Memorial Church, Garden Room, 55 Washington Square South New York, NY 10012